History
Christ Church was completed in 1729. In 1735 the Richard Bridge organ was installed. In 1743 only fourteen years after the church was consecrated, the north door and its steps were removed to make way for Fournier Street. The spire's original 'dormers' were removed in 1822 and the altarpiece in 1855.
The first major alteration was made in 1866 by Ewan Christian (better known as architect of the National Portrait Gallery, London, 1890–95), who removed the galleries and the box pews; blocked up the windows in the aisles and lengthened the gallery windows.
1957
Christ Church was closed to the public as structurally unsafe. The Hawksmoor Committee was formed to ward off the threat of demolition and raise awareness of the building. In 1966 the roof was rebuilt under the supervision of Cecil Brown FRIBA with some of the funds from the sale of St John's Smith Square.
Christ Church was still derelict but safe and watertight.
1965
A rehabilitation centre for homeless alcoholic men was housed in part of the crypt.
1972
Bells salvaged from St Stephen's Clapham Park installed in the tower.
1976
Following a meeting of Save Britain's Heritage in the nave, the Friends of Christ Church Spitalfields, was established to restore the church and bring it back into use.
The Spitalfields Festival was started by the Friends at the same time. An almost perfect venue to hear music, the Festival encouraged many people to visit Christ Church and to talk about the building. The Spitalfields Festival (now Spitalfields Music) became a separate entity in 1995.
1987
Parish worship returned to the church, but Christ Church remained generally closed.
1996
The Heritage Lottery Fund awarded £2.4 million to the restoration (increased by £3.5 million in 2002) and English Heritage awarded a grant of £435,000. Both these grants were at the time, the largest ever awarded to a parish church. The Monument Trust awarded £500,000.
2002
A contract was signed with Wallis Special Projects of Bromley for the complete restoration of the interior of the church. The grant from the Heritage Lottery Fund was matched by generous grants from charitable trusts and many individuals from around the world.
2004
After years of neglect, Christ Church was restored to its appearance circa 1750, on the basis of the surviving archaeological and documentary evidence. The restoration of 1976–2004 revealed one of the most complex and sumptuous of Hawksmoor's interiors in London. The restoration was highly acclaimed and received seven major awards.
2015
Following preparatory work by the Friends, the PCC renovated the Crypt with funds from the Monument Trust.
2015
Marked the completion of the building's restoration following the restoration of the organ.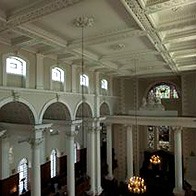 'The restoration project will also be an inspiration for organ builders both in England and elsewhere.'
David Yearsley, Associate Professor of Music, Cornell University