Travel Bursary for organ builders
Success of opening recital established annual travel bursary
The restoration of the 1735 Richard Bridge organ supported a wide variety of skilled craftsmanship. In recognition of this, and to support this specialised work, the trustees have established a Travel Bursary for organ builders to encourage excellence and research in organ building.
The Friends are grateful to all our Supporters who have made this possible.
The grant will support a period of workshop training or academic research related to any practical aspect of organ building. It is intended to contribute to the costs of travel, subsistence and any fees. It may be combined with other awards for similar purposes. Candidates may be based in the UK and wish to travel abroad, or be from abroad and wish to travel to and within the UK.
2016 Award
Applications for the first award were received from around the world. The recipient for the 2015–16 award was Mateusz Jablonski from Kraków, Poland. He is serving a year's apprenticeship at William Drake's workshop in Buckfastleigh, Devon, specialists in the restoration and reconstruction of historic organs as well as the building of new organs in an historically inspired house-style. Their high profile projects include work for Her Majesty the Queen, St Paul's Cathedral and The Palace of Westminster as well as the flagship restoration of the Bridge organ in Christ Church Spitalfields. Mateusz's training will cover all aspects of organ building.
To read an account of Mateusz Jablonski's apprenticeship please click here.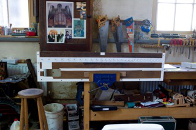 Organ Wind Chest: for repairs in the workshop.